Dolce & Gabbana Responds to Racist Jewelry Controversy
By Lindsey Schickner
09/27/12 at 10:30 AM
Photo: Imaxtree

A Dolce & Gabbana Spring 2013 look.
After showing their Sicily-inspired Spring 2013 collection, design duo Domenico Dolce and Stefano Gabbana were immediately attacked for their choice of accessories, specifically slave-inspired earrings.
Hanging from the fair-skinned model's ears, the statement colorful and ornate earrings of a dark African woman's face brought to mind the racially-charged Aunt Jemima doll.
Targeted by many news outlets as romanticizing slavery, The Guardian wrote, "There wasn't a single black model in Dolce & Gabbana's show, and it's hard not to be appalled by the transparent exoticism in sending the only black faces down the runway in the form of earrings."
Dolce & Gabbana responded to the many negative reactions surrounding their Spring 2013 accessories saying the earrings were a node to Sicily's traditional Moorish-inspired artifacts.

"The head is inspired by traditional Moorish people, a term used to describe the Medieval Muslim inhabitants of Sicily - a place that consistently inspires Dolce & Gabbana designs and the native country of Domenico Dolce. Traditionally, the heads are then covered with an Italian tin glaze that gives a shiny finish and painted in vibrant colors to symbolize stories and legends from Sicilian towns," asserted the label's online magazine Swide.com.
Following the buzz surrounding Victoria's Secret's 'Sexy Little Geisha' lingerie, racist-based controversy is a common theme in the fashion industry, where the line between culturally inspired and racially offensive is easily blurred in the creativity of design.

In case you missed it, check out the entire Dolce & Gabbana Spring 2013 RTW looks below.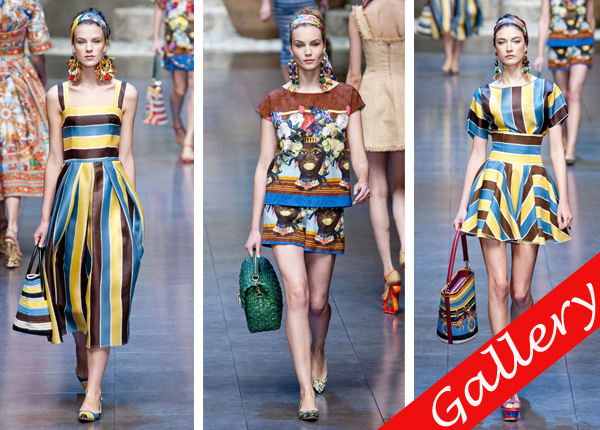 What do you think about Dolce & Gabbana's statement earrings? Let us know in the comments section below.
YOU MAY ALSO LIKE:
---