Fighting Words: Cathy Horyn vs. Oscar de la Renta
By Piper Gray
09/14/12 at 02:45 PM
Photos: Patrick McMullan

The critic vs. the designer: Cathy Horyn and Oscar de la Renta
It started when the New York Times' Cathy Horyn issued her review of Oscar de la Renta's Spring 2013 collection.
Mr. de la Renta is far more a hot dog than an éminence grise of American fashion. He opened his lively show on Tuesday with a red latex pencil skirt, a sleek ivory wool pantsuit and dairymaid lace. The models' hair was streaked with war paint, and midway along, after bead-quivering jackets and neon-bright skirts, he sent out white lace with black pencil-like scribbles. It was wonderfully cantankerous, a good bit of window-dressing for the gooey stuff that followed.
Okay then.

De la Renta didn't take this lying down. This morning, he took out an ad in WWD taking her to task.
I respect and accept criticism because in many ways it does help us develop…What I do not accept is when criticism is personal. If you have the right to call me a hot dog why do I not have the right to call you a stale 3-day old hamburger?
ZING!

Of course, Horyn is entitled to her opinion—she is a fashion critic—and de la Renta's full letter is mature and contained.
So what's the latest? Horyn has responded to a query from Fashionologie.
"I used the term [hot dog] in a professional context, as someone showing off his tricks, like a surfer, she said. But "I thought an ad was a little over-the-top," she continued.
Surely, we'll hear more from de la Renta's camp soon, but until then: can't everybody just kiss and makeup?
Here's the collection that started it all, in case you need to assess your own opinion.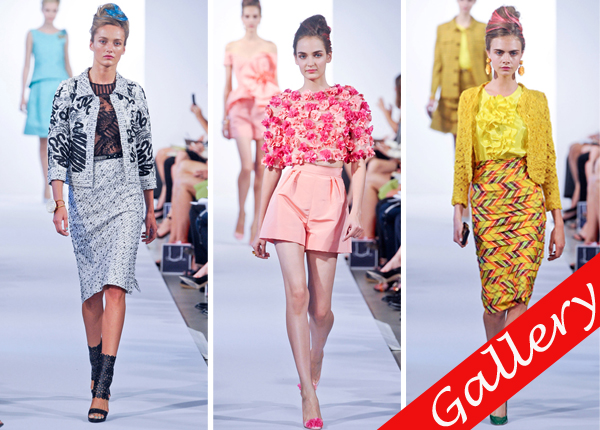 YOU MAY ALSO LIKE:
---