Chanel Spring 2013 RTW
By James R. Sanders
10/02/12 at 10:00 AM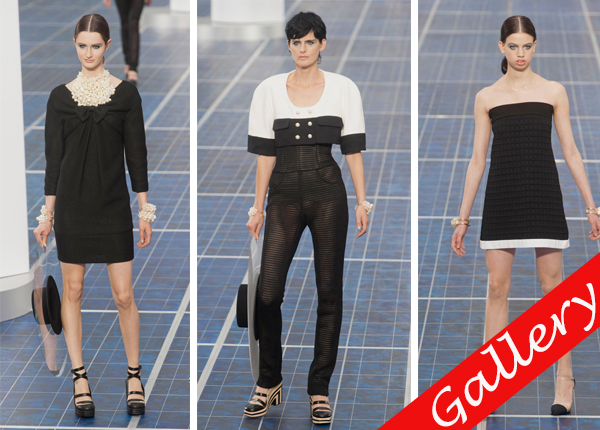 SHOW: Chanel Spring 2013 RTW

THEME: Classic Chanel with a touch of edge

ACCESSORIES: Fantasy fashion jewelry. Gobs and gobs of neckwear and statement studs

OVERALL TAKEAWAY: Coco Chanel was once quoted as saying, "Fashion fades. Only style remains the same." That's probably why Chanel has lasted as long as it has. And this collection speaks to that in so many different ways. Karl Lagerfeld is brilliant and is able to translate his perspective into each collection while still preserving the Chanel brand image and mission that Coco started all of those years ago at 31 Rue Cambon. Now that takes a true mastery of fashion.

This collection touched on different periods impacted by Chanel. Dresses, separates, and suits told a consistent story throughout, not leaving the audience of industry with anything to be desired. This season Lagerfeld gave many options for black dresses – perhaps fashion's most versatile garment. Short dresses and longer dresses accessorized with iconic Chanel jewelry made up the beginning of the presentation. The collection steadily moved forward with tailored suits and separates that included loose cuts around the top of the silhouette often paired with pencil skirts and bead embellishment.

Splashes of color appeared every now and then in separates, suits and outerwear. One of the more captivating looks was a vibrant blue two-piece suit with a buble silhouette that hung on the model with a starch stiffness. The blue was strong enough on its own to be the embellishment. Accessories were kept to a minimum. Lagerfeld showed a couple of trends that popped up in Paris this month. He used blue hues for outerwear and leather for one look – a skirt paired with a black cardigan with beaded embellishment.

In terms of pattern and textile, Lagerfeld uses beads strategically accenting the collection without overstating the concept. He uses tweed with stiff textiles to create a geometric look for some garments.
YOU MAY ALSO LIKE:
---