Ralph Lauren Spring 2013 RTW
By Lindsey Schickner
09/13/12 at 09:17 AM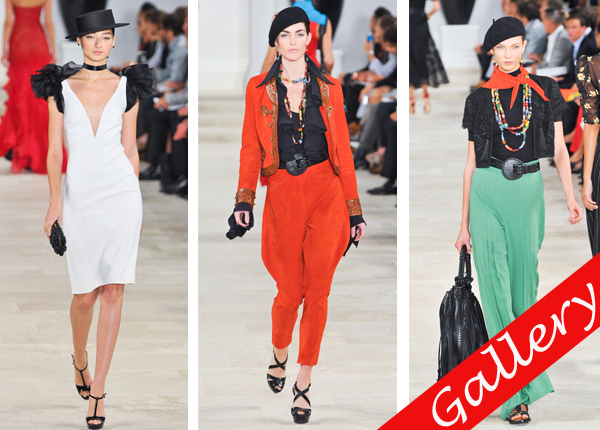 SHOW: Ralph Lauren, Spring 2013
THEME: Romance in Spain
HAIR: Guido
MAKEUP: Tom Pecheux
ACCESSORIES: Bohemian beaded jewelry by Jenny Lauren, hats by Patricia Underwood
OVERALL TAKEAWAY: Ralph Lauren took his iconic American label on a luxurious voyage to Spain for the brand's Spring 2013 season, and 80th fashion show!
After a Downton Abbey-themed Fall 2012 collection, Ralph chose exotic España as the inspiration for his Spring 2013 collection.
Setting the stage for a 61-look parade of rustic-romantic looks, the first model to saunter down the runway wore a turquoise suede poet top with cascading ruffles down the front, topped off with a beret and studded motorcycle hobo.
Electrifying turquoise was followed by tomato and teal suede pieces, scarlet hand-crochet designs, amethyst silk and plenty of ivory and black intricately embroidered and leather accented dresses.
The rich Catalan colors in sumptuous fabrics, with exquisite embroidery, and bead and fringe details, paired with Lauren's impeccable tailoring and chic design style, gave the bohemian-Spanish allure a modern and polished appearance.
A colorful blanket-style serape, beaded bolero jackets, embellished matador-esque pants, a silk faille jacket with elaborate gold embroidery and Karlie Kloss strutting seductively down the runway in a black, organza-tiered evening skirt and billowy white top, the collection balanced Lauren's classically flattering tailoring with a fierce flamenco-inspired appeal.
After walking down the runway to a room full of applause, Ralph tweeted, "There's nothing like the feeling when you walk down the runway after a show. Each time feels like the first."
FRONT ROW: Ryan Lochte, Olivia Wilde, Jessica Alba, David Lauren, Lauren Bush, the entire Vogue entourage, Carine Roitfeld
YOU MAY ALSO LIKE:
---