Holmes & Yang Spring 2013 RTW
By Erin Donnelly
09/13/12 at 08:59 AM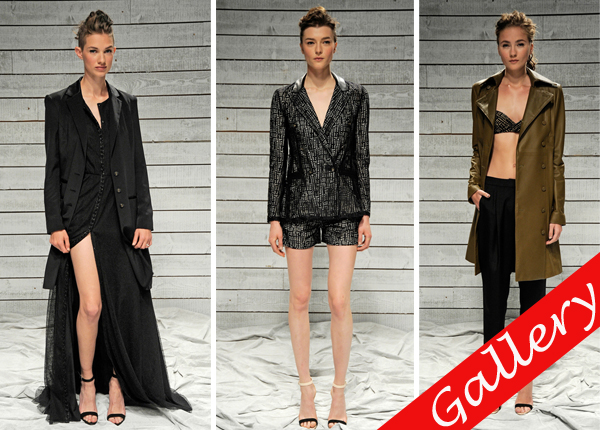 SHOW: Holmes & Yang Spring 2013
THEME: Timeless "modern-day armor"
HAIR: Ponytails in the style of co-designer Katie Holmes
MAKEUP: Bobbi Brown
ACCESSORIES: Sleek two-tone ankle-strap heels, loafers, and a slim briefcase
OVERALL TAKEAWAY: Leaving Tom Cruise's clutches takes a certain amount of self-assuredness, so it's no wonder that the topic of a woman's confidence has been weighing heavily on Katie Holmes' mind.
For their first Fashion Week presentation, which had security levels that would impress even Tom Ford, Holmes and partner Jeanne Yang focused on the concept of extracting a woman's strength through her wardrobe.
Though there's been criticism that the 14 ensembles weren't cohesive enough to make a strong statement or comprise a full collection, Holmes & Yang certainly know their audience. Luxurious yet basic, versatile yet designed to appeal to the many facets of a woman's persona—see a sweet floral-print dress alongside a sharp shorts suit trimmed in black leather.
Ultimately, we found lots to covet, including a leather camisole, an easy-chic red blazer worn over a printed top and simple black skirt, and a black printed cocktail dress with a sweetheart neckline. And isn't that all a gal needs?
YOU MAY ALSO LIKE:
---