J. Mendel Spring 2013 RTW
By Lindsey Schickner
09/12/12 at 04:20 PM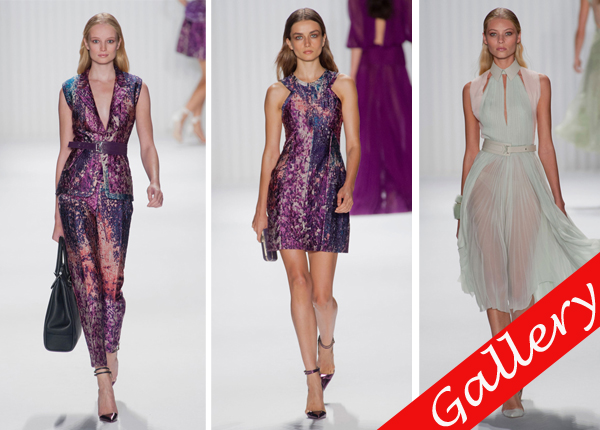 SHOW: J. Mendel, Spring 2013
THEME: Wisteria inspired by the Kawachi Fuji gardens in Japan
HAIR: Orlando Pita for Beauty.com and T3
MAKEUP: Gucci Westerman for Revlon
ACCESSORIES: Manolo Blahnik for J. Mendel, the signature J. Mendel Eve clutch in an elongated form
OVERALL TAKEAWAY: Mesmerizingly divine, the J. Mendel Spring 2013 collection was full of luxe fabrics, with delicate embellishments and a lush color palette of both soft and electrifying spring shades.
A floral focus was counterbalanced by striking silhouettes and sumptuous textures. A melding of romantic colors and exquisite composition gave the pieces a powerfully whimsical appeal.
The daytime looks featured simple shapes juxtaposed with expensive fabrics for an effortless blend of youthful luxury, such as a leather tunic paired with laser-cut shorts, a sheer silk top worn with velvet mink hot pants, a silk tiger lily print minidress with sexy cutouts and a lace top with low-slung loose bottoms.
Gowns followed, floating so dreamily down the runway. Carefully constructed corsets were concealed by elegant silk drapery and soft pleats.
Deep iris and soft violet shades, multi-metallic, ivory and cantaloupe, the colors screamed springtime and the designs, from day to night, were all straight out of a modern fairy tale
FRONT ROW: Elisabeth Moss
YOU MAY ALSO LIKE:
---