The Row Spring 2013 RTW
By Erin Donnelly
09/12/12 at 12:31 PM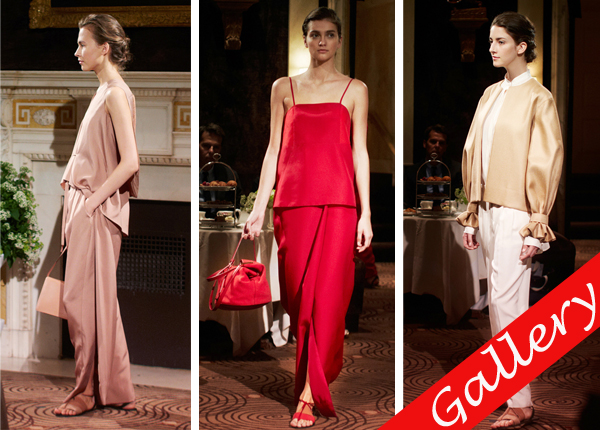 SHOW: The Row Spring 2013
THEME: The tranquil beauty of English gardens and Japanese scrolls
HAIR: Odile Gilbert for Kérastase
MAKEUP: Tom Pecheux for Sunday Riley
ACCESSORIES: Less is more simple flat sandals and handbags (from slim cross-body bags to slouchy totes) in blush, scarlet, and black
OVERALL TAKEAWAY: Before we get into the aesthetics of the CFDA-winning label's Spring 2013 collection, can we just note that scarlet red seems to be the season's go-to hue so far? After popping on the Victoria Beckham runway, the standout shade broke up The Row's otherwise muted palette of black, navy, cream, blush, and ecru, gracing a slim silk brocade pantsuit, sublime blazer that was cinched at the waist and paired with a matching maxi with a generous leg slit, and a spaghetti-strap gown that wouldn't be out of place in Lady Mary Crawley's closet.
Speaking of the Brits, the Olsens cited English gardens, as well as the scrolls of Japanese artist Ito Jakuchu, as an inspiration for their understated yet sumptuous collection. Indeed, the clothes' flawless tailoring and minimalist appeal created a sartorial sanctuary if ever there was one.
The Asian influence could be clearly seen in a kimono-style coat, vests and skirts that recalled obi belts and the layered style of a geisha, and wispy, lightweight fabrics that could have been sliced with the sharp blade of a samurai sword.
Throughout, lengths ran long, from floor-sweeping skirts to pleated suit jackets that trailed past the knee. Accessories were limited to flat sandals and a handful of bags, with just a touch of trim and lace sleeves breaking away from the mastery of the fluid cuts.
If the Olsen twins are vying for another CFDA trophy, they're definitely on the right track.
FRONT ROW: Mary-Kate and Ashley Olsen
YOU MAY ALSO LIKE:
---