Michael Kors Spring 2013 RTW
By Piper Gray
09/12/12 at 12:21 PM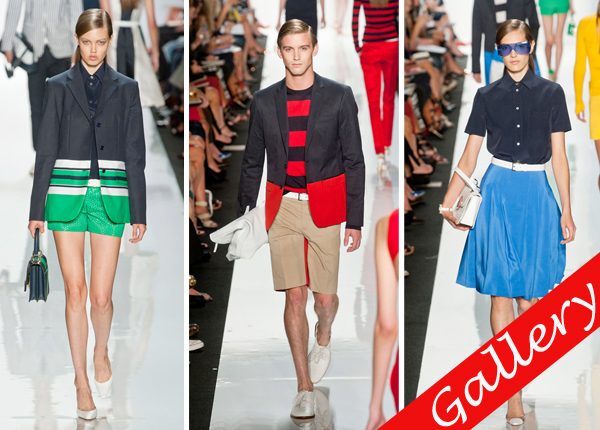 SHOW: Michael Kors Spring 2013 RTW
THEME: Streamlined glamour
HAIR: Orlando Pita for Orlo Salon
MAKEUP: Dick Page for Shiseido
ACCESSORIES: classic, tailored but utilitarian bags by Michael Kors, who also did the shoes, belts, and jewelry
OVERALL TAKEAWAY: Sometimes we forget that Michael Kors is good at what he does, designing. All we mean is between the Project Runway appearances and his public zingers, the man's original career sometimes becomes secondary.
What a reminder this morning's show was to shake us from that presumption, to remind us the man knows what he is doing.
To a remix of New Order's Bizarre Love Triangle, the models, including Karlie Kloss and Joan Smalls, were sometimes nine on the runway, in a rotating line of stripes and simple geometric patterns. Kors' designs are consistently polished and effortlessly glam, no fuss, no frills: just simple but confident pieces that will stick in your wardrobe for many years to come.
Kelly greens and mustard yellows made a strong appearance as did red goggles, gold hardware as utilitarian embellishments, and in a particularly snappable moment, Joan Smalls in a swishy white paillette dress.
Kloss showed the final look, a cut-out black dress, simple enough but when paired with the model's stand-clear saunter and her unwavering gaze on the cameras at the end of the runway, DANG. Once she circled the catwalk, the other models had cleared, and she was solo, leaving the rest of us open-mouthed in her wake.
FRONT ROW: Camilla Belle, Catherine Zeta-Jones and Michael Douglas, Olivia Munn, Marisa Tomei, Rachel Zoe, Carine Roitfeld, Anna Wintour, Katharine McPhee, Bill Cunningham
YOU MAY ALSO LIKE:
---