Sachin + Babi Spring 2013 RTW
By Sonia Evers
09/11/12 at 05:35 PM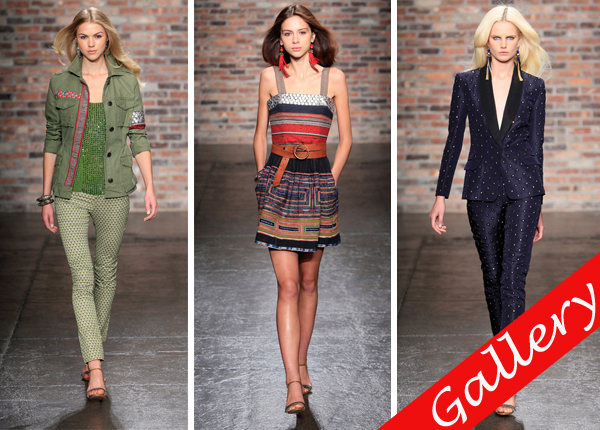 SHOW: Sachin + Babi, Spring 2013
THEME: Backpacking trip through Magnolia
HAIR: Cutler
MAKEUP: Bobbi Brown
OVERALL TAKEAWAY: Sachin + Babi drew inspiration for their Spring 2013 collection from a photo taken by Ryan Holden Singer of his backpacking trip through Mongolia. Both Sachin and Babi Ahluwalia have dreamed of taking this trip together, and their collection was indeed dreamy.
The duo showcased their signature embroidery expertise jazzed up with some rock-n-roll chic pieces like a Sgt. Pepper inspired jacket and printed skinny jeans. Vertical ruffles added new movement to chiffon gowns and skirts, some of which were paired with crocheted bikini tops.
The collection was fun, festive, and destined to be a best seller next season.
FRONT ROW: Miss USA, Miss Universe, Kelly Framel
YOU MAY ALSO LIKE:
---