Naeem Khan Spring 2013 RTW
By FashionEtc Staff
09/11/12 at 04:16 PM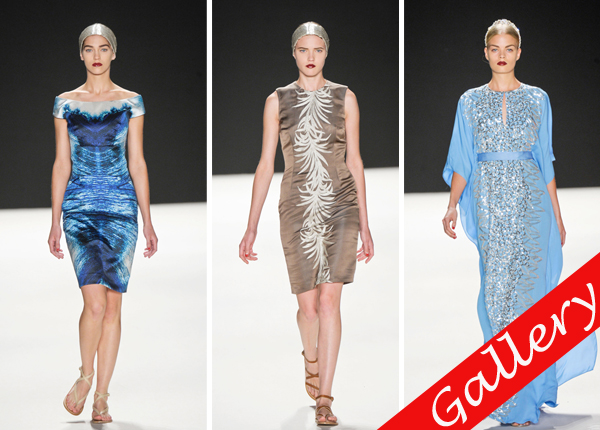 SHOW: Naeem Khan Spring 2013 RTW
THEME: "The Duchess of Windsor: Exotic gardens, fiery skies, and the Arabian Sea"
HAIR: Neil Moodie for Bumble and bumble.
MAKEUP: James Boehmer for Nars
ACCESSORIES: simple leather-strap sandals
OVERALL TAKEAWAY: Khan pulled from an interesting collection of sources this season, fusing natural elements with a refinery and good taste favored by Wallis Simpson, the Duchess of Windsor, who famously (may or may not have) said, "I'd rather shop than eat." And yet, it worked. Of course it did. Naeem Khan has elevated in the ranks of designers who perfectly understand what women want. Even the caftans managed to be body-conscious and flattering.
Roses and sunflowers were printed onto dresses and trenches, as were rushing waves and crimson sunsets. Sky blues and other blinding but welcome tones abounded, making for a striking visual when the final walk headed down the runway.
Never one to shy away from embellishments, Khan's geometric beaded patterns and lush textures harkened to a contemporary but timeless glamour, and the gowns even came with their own soundtrack, the hushed swish and the clack of the beading and netting.
The end result? A standing ovation for the designer.
FRONT ROW: Brian Grazer, Jenna Dewan Tatum, Julianne Hough, Jordana Brewster, Bill Cunningham, Padma Lakshmi
YOU MAY ALSO LIKE:
---