Rodarte Spring 2013 RTW
By FashionEtc Staff
09/11/12 at 01:55 PM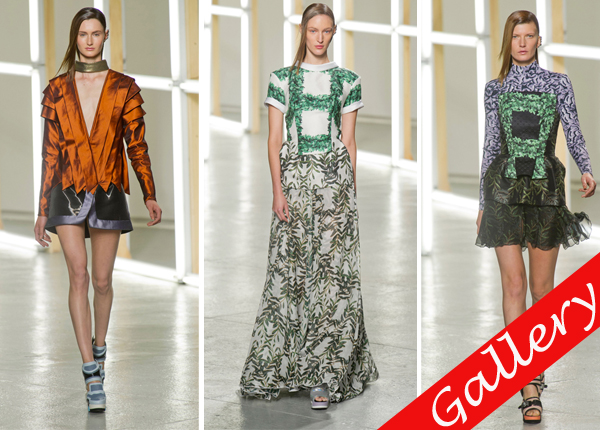 SHOW: Rodarte Spring 2013

THEME: Modern medieval
HAIR: Odile Gilbert for Kerastase
MAKEUP: James Kaliardos for NARS
ACCESSORIES: Sci-fi-chic peep-toe heels, metallic ear cuffs, and bronze chokers
OVERALL TAKEAWAY: We should have known the Mulleavy sisters had something up their sleeves when Star Wars genius George Lucas graced the front row at their Fall 2012 show back in February.
The force was most definitely with the gals for Spring 2013, with an anachronistic but intriguing collection that married medieval details with references to '80s video games and sci-fi/fantasy classics like Tron. At last, ready-to-wear for the Game of Thrones fan.
Feminine trellis prints evoked Lady Guinevere, while textured breastplates, grommeted lace-up leather trousers, and a gorgeous metallic latticework seemed more suited for the Middle Ages version of Lisbeth Salander.
Geometric shapes and structure were key, with a copper jacket cut to resemble a suit of armor with a Blade Runner twist. And it appears that the Mulleavy girls' vision of the future includes a lot of leg, with mullet-style maxidresses and miniskirts—including a stunning A-line number studded with Swarovski crystals—overwhelmingly on display. Lucas will no doubt be proud.
FRONT ROW: Kirsten Dunst, Tavi Gevinson, Anna Wintour, Rachel Zoe, Anna Dello Russo
YOU MAY ALSO LIKE:
---