Karen Walker Spring 2013 RTW
By Piper Gray
09/10/12 at 08:06 PM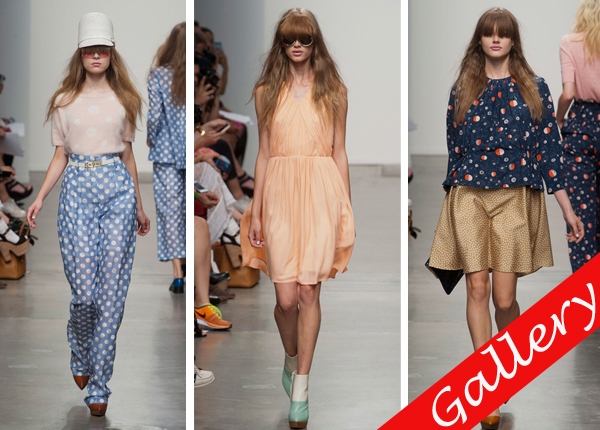 SHOW: Karen Walker Spring 2013 RTW
THEME: "Fantastique Magnifique"
HAIR: Laurent Philippon for Bumble and bumble.
MAKEUP: Jenna Menard for Clinique
SHOES: Beau Coops for Karen Walker, Karen Walker sunglasses
OVERALL TAKEAWAY: Well, we know Karen Walker enjoys a bit of unearthly inspiration. Following her Fall 2012 collection (remember: it was "sea monster" themed), the New Zealand designer went the extraterrestrial route. If Judy Jetson tried to assimilate as a suburban, albeit very homesick teen, she'd need look no further than Karen Walker for celestially-themed pieces.
And when we make mention of the intergalactic pieces, this was hardly Star Wars-level inspiration. (George Lucas; you're thinking Rodarte) But the designer based her UFO prints, star-patterned denim, and copper-inflected sweatshirts on a "fascination with Space Age suburbia's unabashed hope for the future." Walker had stars in her eyes when she set out to design this collection.
The models, although many wearing rose-colored glasses, weren't seeing stars or much of anything at all. Overlong fringe covered the ladies' eyes. We at once applaud the fact that not one girl tripped or weaved on account of the obstructive bangs and nearly speed-dialed our salon for a hair appointment.
Polka dots were pervasive throughout, as were elevated straw toppers and rose-colored glasses. We'll passed on the hats, but we immediately took to the blousy, girly tops and bright pink lips.
YOU MAY ALSO LIKE:
---