Billy Reid Spring 2013 RTW
By Piper Gray
09/07/12 at 10:06 PM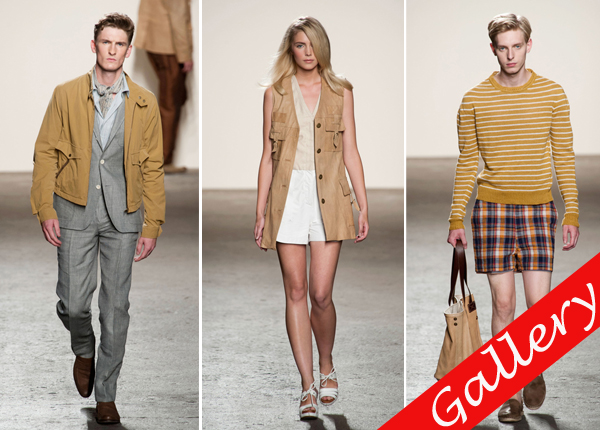 SHOW: Billy Reid Spring 2013 RTW
THEME: Come for the party, stay for the clothes
HAIR: Matthew Curtis for Tresemme
MAKEUP: Bobbi Brown Cosmetics
ACCESSORIES: quality leather bags, Billy Reid and Billy Reid for K. Swiss shoes
OVERALL TAKEAWAY: Even if Billy Reid hadn't plied us with beers (cases of Dogfish Head awaited the guests escaping the New York heat), we were already inclined to enjoy ourselves this Friday evening, despite blistered feet and the other Fashion Week badges of honor. Anyone who throws a yearly barbecue block party and hosts an event headlined by the Alabama Shakes called Shindig certainly knows how to bring their A-game on the event planning front. The clothes: who cares? We kid of course, but our Shazam app got as much as a workout as our Instagram, documenting the tunes from the Head and the Heart and Willy Moon while the mix of mens- and womenswear provided a refreshing change of pace to our exclusively lady-focused appointments.
But yes, the clothes. Spirits and jams aside, the CFDA Menswear Designer of the Year proved his mettle yet again with a solid roster of casual but refined pieces in muted tones just as appropriate in a Brooklyn speakeasy as a Florence, Alabama bar. A crew of dapper gentlemen filled the crowd, certainly the target demo for Reid's designs, and as well-coiffed and put-together as they were, some could have joined the runway parade. As for women, gauzy and sheer looks were present, with long hair, in a wavy deep-side part. Tailored shapes for women aren't necessarily his forte, but even though unstructured, shapeless looks aren't our particular preference, we found many a piece we wouldn't mind pairing with a delicious cropped blue leather jacket, seen on front-row guest Mandy Moore.
When the models did their final lap, and Billy Reid took his bow, the crowd cheered and whooped, a riotous first this week. Was it the beer? Nah, he earned it.
FRONT ROW: Jack Huston, Mandy Moore
YOU MAY ALSO LIKE:
---