Kate Spade Spring 2013 RTW
By Piper Gray
09/07/12 at 11:36 AM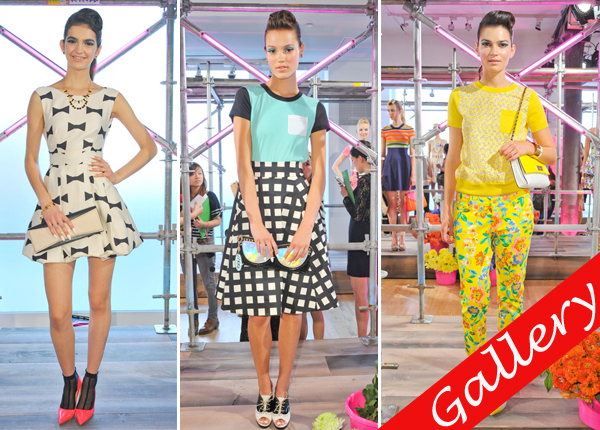 PRESENTATION: Kate Spade New York Spring 2013
THEME: Inspired by the photo, Ormond Gigli's "Girls in Windows"
HAIR: Tommy Buckett at the Magnet Agency courtesy of Garnier
MAKEUP: Jouer Cosmetics; manicures by Deborah Lippmann
ACCESSORIES: A tasteful, vibrant necklace here, a sunhat there. Technicolor bags, eye-catching clutches.
OVERALL TAKEAWAY: Good morning, sunshine! Feeling groggy? Take 5 in Kate Spade New York's presentation, and see your caffeine craving dissipate immediately. Hot pink buckets and hydrangeas and roses adorned the mock scaffolding upon which the models vamped, showing off their all-white talons ( yes, long and exaggerated a la LDR) and gingham patterned manicures.
No longer just a brand but a lifestyle, Kate Spade New York has cultivated a following of bright young things who revel in well, hot pink buckets of hydrangeas and gingham manicures. This presentation was yet again artfully tailored to the girls whose closets are crowded with technicolored prints and feminine silhouettes. Styled by Brad Goreski, the collection is not for power women who eschew girly hues for basic black. Expect sheer socks (these are not from your Sunday School days) and orange and pink bags to come sweeping in with the sun next spring. The liner notes, written in hot pink, expound upon the virtues of "mint cream and orange whip, strawberry sundae and lemon soufflé." Copping to "over the top" prints, creative director Deborah Lloyd has brought the Kate Spade acolytes (ourselves included) just what they wanted.
Think: if Betty Draper's marriage had been the stuff of light-hearted romantic comedies and not prime-time dramas, the country club set of the Mad Men era- strawhats, metallic-toed heels, mod patterns, plenty of bows-on uppers. This teeters close to a "Valley of the Dolls" comparison but that wouldn't be accurate. Kate Spade New York's vivacious and tailored collection is pure happiness, bright and cheery. Just the way we like it.
YOU MAY ALSO LIKE:
---