AF Vandevorst Spring 2013 RTW
By Lilit Marcus
09/28/12 at 02:15 PM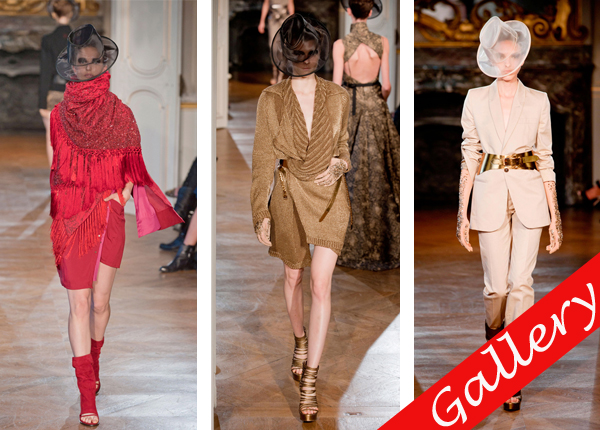 SHOW: A. F. Vandevorst, Spring 2013
THEME: 50 Shades of Grey, One Shade of Teal
ACCESSORIES: Open toe ankle boots, sheer fedoras
OVERALL TAKEAWAY: 50 Shades of Grey hasn't just inspired a movie deal. It has clearly worked its way into fashion, as A.F. Vandevorst's RTW collection clearly shows.
The looks were subtly bondage-inspired, with constricting jackets and multi-strand leather belts. Even the evening dresses paid subtle homage to the theme, with several of them looking like artfully wrapped bedsheets for an "I came here straight from my love nest" vibe.
Vandevorst kept with a largely neutral black, gray, and nude palette, but there were some surprising bursts of color toward the middle of the show in the form of a teal shawl-and-pants set, as well as some magenta pinks.
Otherwise, the looks were subtly sexy, with black and white menswear-inspired hats topping off the outfits.
This is loungewear taken to its very glam extension.
YOU MAY ALSO LIKE:
---