15 Gravity Defying Shoes (If You Can Call Them That)
By Sonia Evers
08/07/12 at 09:47 AM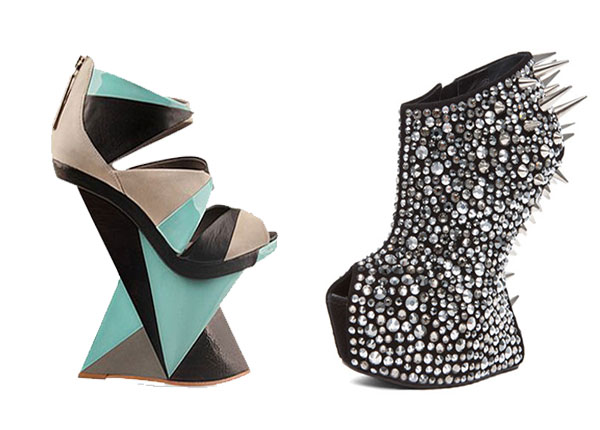 When Alexander McQueen sent his show-stopping monster wedges down his Spring 2010 runway, our only thought was Lady Gaga, because honestly, who in their right mind — other than the risk taking pop star — would wear such gravity defying, ankle-breaking, toe-crunching heels. Right?
Wrong.
Two years later and the absurdly high, ridiculously shaped, mind-boggling heels are still going strong, infiltrating the wardrobes of the shoe-obsessed who would rather risk a broken ankle than wear a "reasonable" heel (i.e. those that fall in the 5" and below category).
Designers like Christian Louboutin and Giuseppe Zanotti have made names for themselves creating luxurious and outlandish heels, but their designs still, for the most part, resemble a shoe. Other brands however, create pieces so architectural it's hard to believe they would sit on a foot and not on a podium in the Museum of Modern Art.
Here we've rounded up 15 of the most gravity defying, sole-crushing heels that not only are for sale, but happen to be selling out quickly as well.
YOU MAY ALSO LIKE:
---